It was a dark and stormy night....
Just kidding

Thought it would be a good idea to clue everyone up on our rites of passage through the continent last week. Several of our clan are still out there and I'm sure there will be many more photos to be added as the days pass by.
First of all though, a mention in despatches for two individuals in particular. First, a huge thank you to the Swede (aka Nutty Professor) who put in much of his time to organise a large portion of the trip behind the scenes and made sure we all got to where we were supposed to be and had somewhere to rest and enjoy the full hospitality of our Belgian hosts.
Also, many thanks to Dan for having the idea in the first place and doing a lot of running around to coordinate the UK side of the venture.
So, without further ado, let's see just a few of the many snaps taken. No doubt the rest of the journeyers will pop stuff up from their pics too (I know Dan has a particularly interesting pic of Spike!

)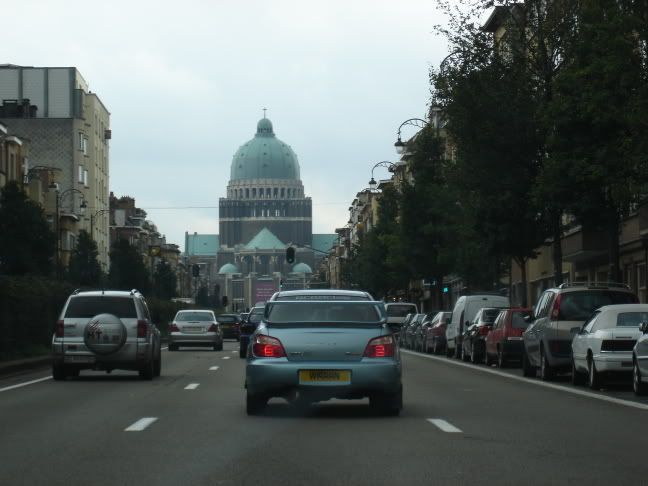 A wonderful shot showing the Woz-machine entering Brussels. The poor sods didn't know what hit them. It was like a military ambush. From here we toured through Brussels underground in the most amazing tunnels. Six cars with exhausts ranting at max flow proved so scary that other cars braked at the noise and one poor woman was so scared she covered her ears inside her car!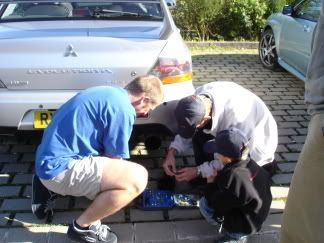 Junior Swede offers his dad his prized 'Bob The Builder' spanner set to help do some urgent mods prior to running round the 'ring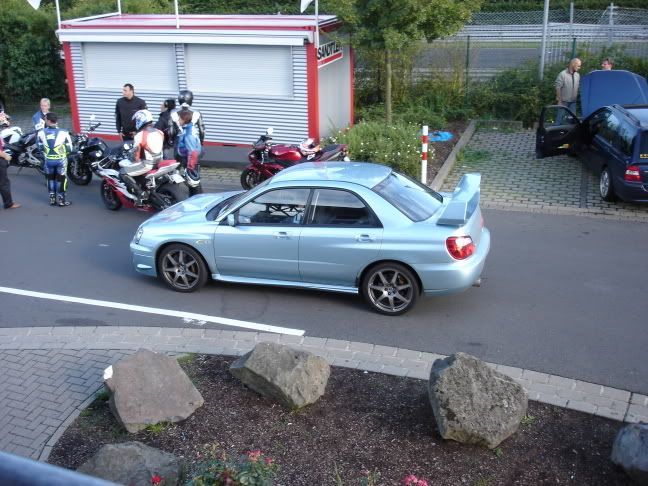 Taken from the cafe at the 'ring. A WR1 eases back into the paddock after a lap.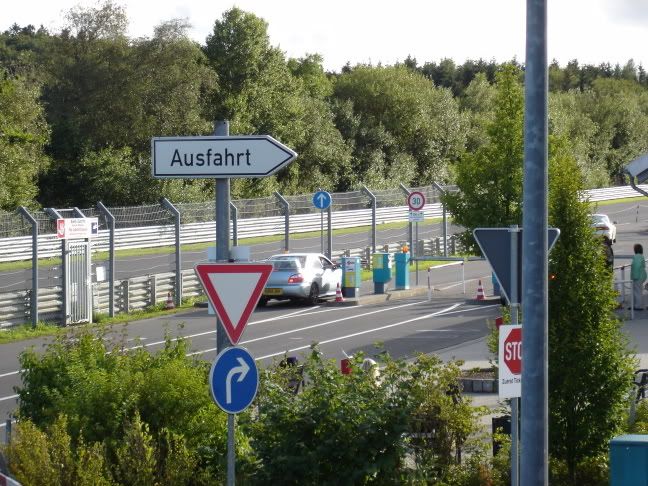 After lots of confusing signs we finally made it to the track! The 'ring has thoughtfully installed ticket barriers on the right-hand side for us Brits.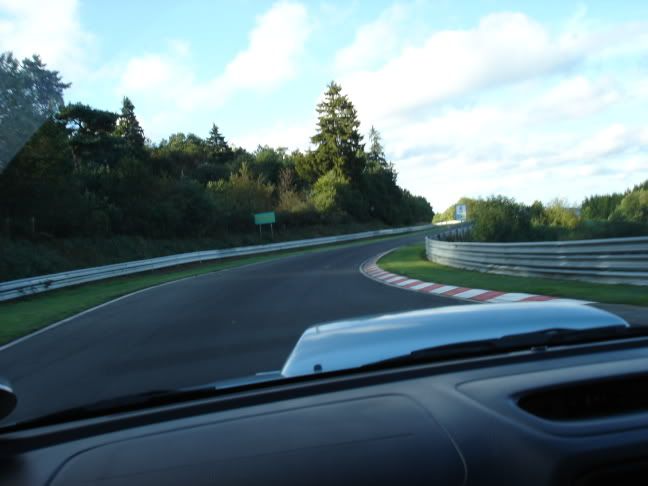 The only time my wife opened her eyes on a lap of the 'ring was to take this photo. Frankly, I'm amazed it came out so well!

Little Miss Wr1te-off giggled all the way round and I wasn't allowed to do a single lap without her once she'd been out.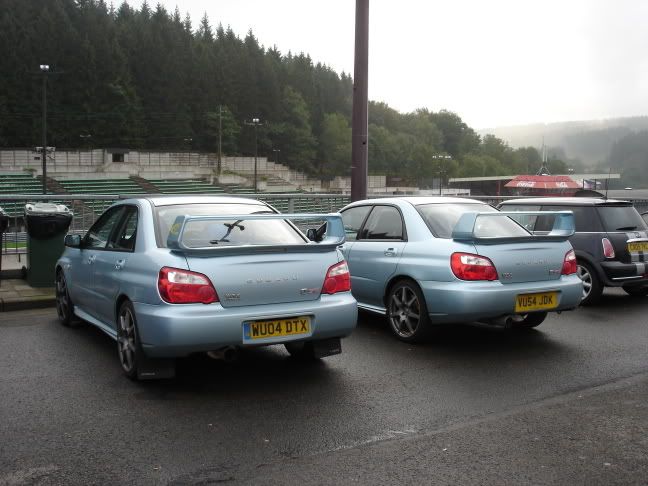 Overlooking the stands at the top of Eau Rouge at Spa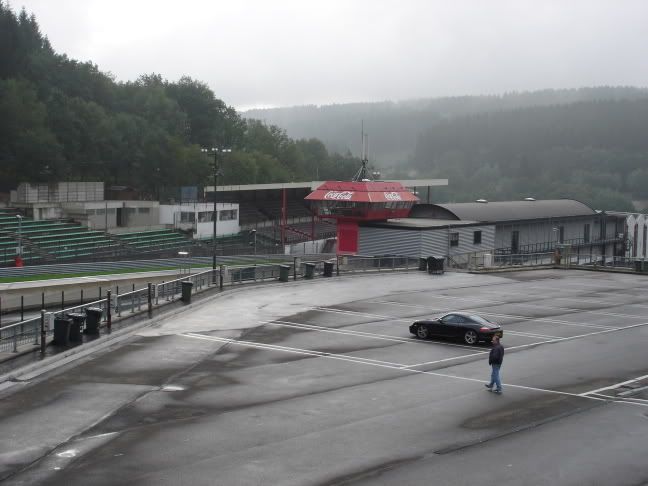 An unwitting Porsche entrant struggles to understand why the ferry embarkation lanes are so short, and why they are so far away from the water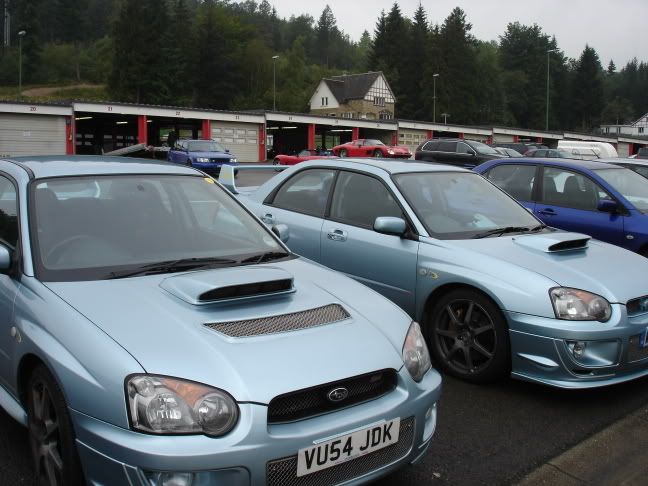 The paddock at the back of the pit lane. Thankfully we got our own pit garage shortly after, and the spectators gradually migrated from garage to garage till they spent all their time crawling over the Scoobs and Evo's.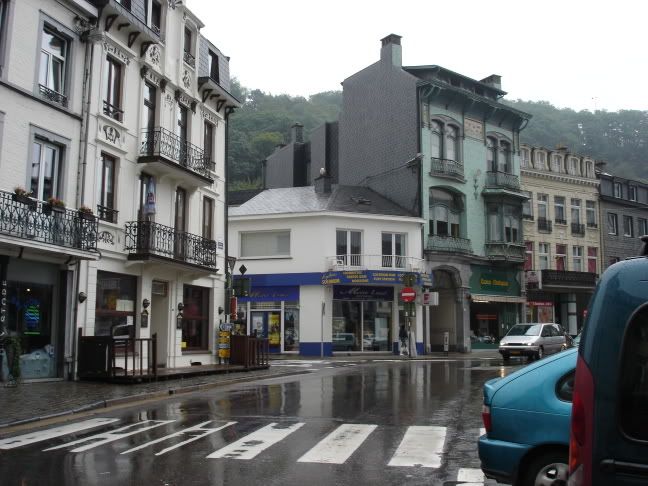 Spa. Notice how wet it was - something which was to provide a challenging day on the track. Nobody else got a chance to see Spa town, but the missus went with the Swede back to the hotel for something. Hmmmm...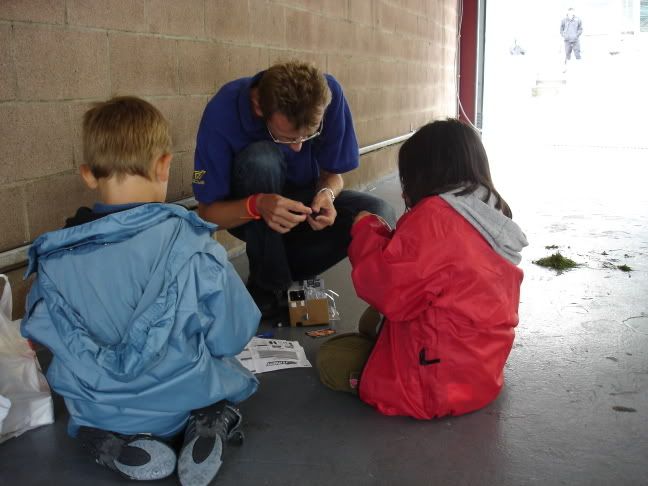 A doctorate in Phyics. Degrees from Harvard and Cambridge. Honorariums from Oxford, MIT, and Yale. .... and yet the Swede still struggles to understand the Ikea instructions on how to build a toy car. Luckily a couple of small kids were on hand to show him how to do it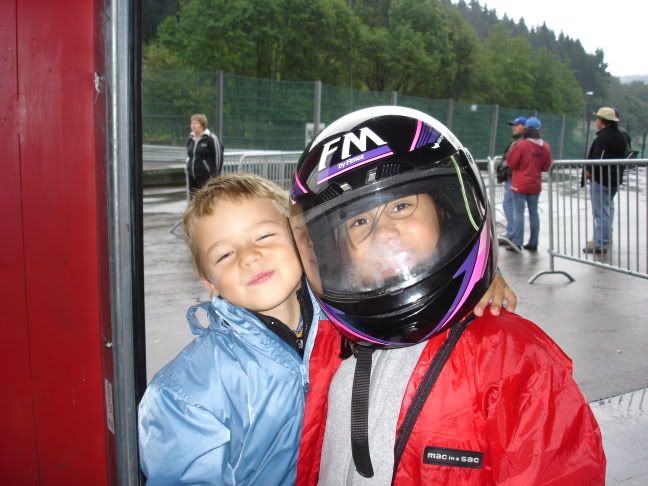 Junior Swede and Little Miss Wr1te-off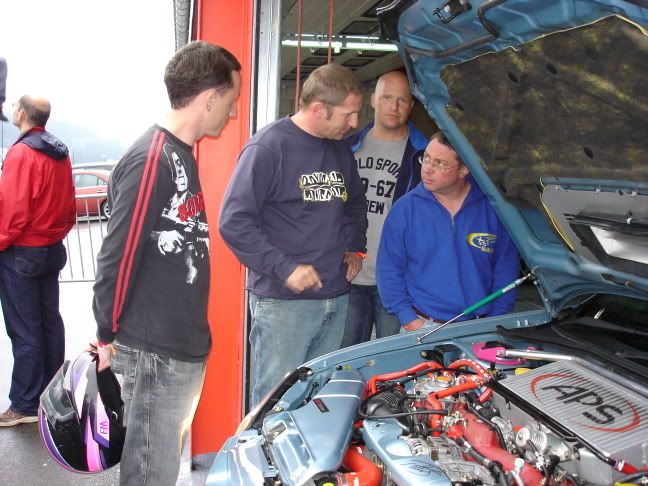 '... and I'm telling you I'm average height and you're all tall freaks!'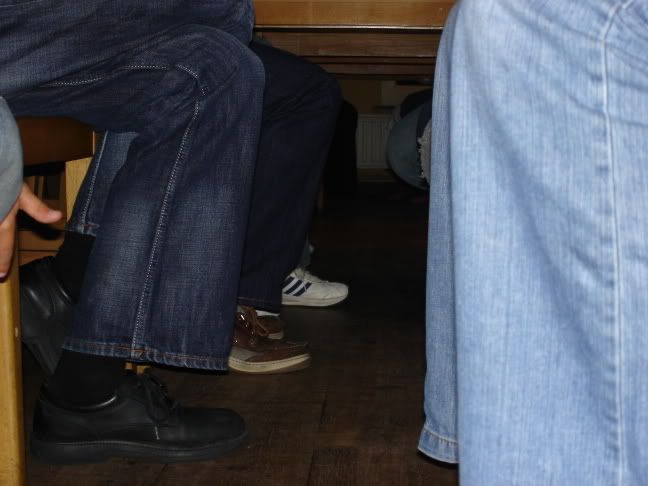 OK, here's a little competition. Can you work out who's who from this shot? The next photo should give you the clues. Answers on a postcard.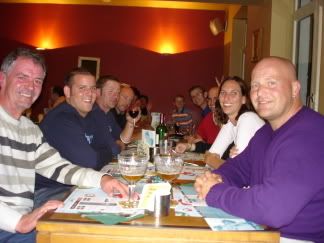 Altogether for a meal in Leuven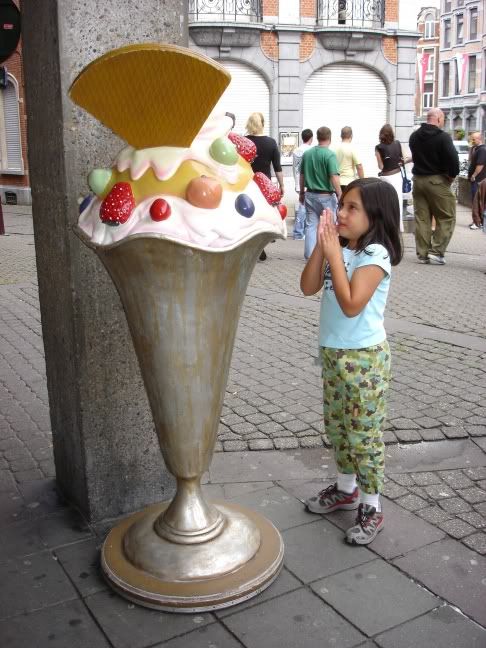 Ice cream paradise, and only one Euro!!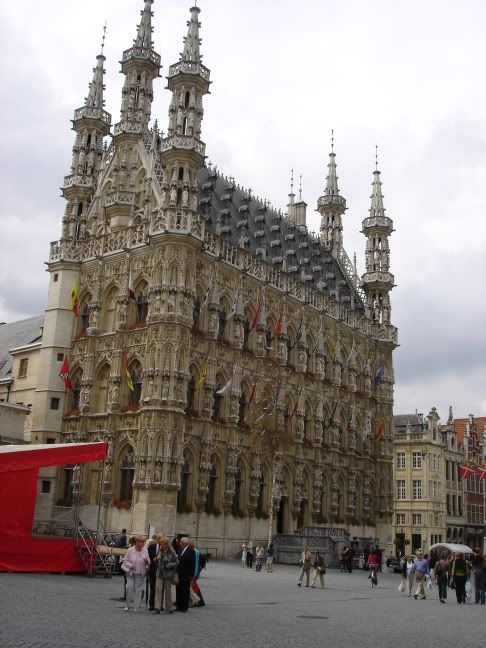 Stunning architecture in Leuven. Poesy, will your new house look like this?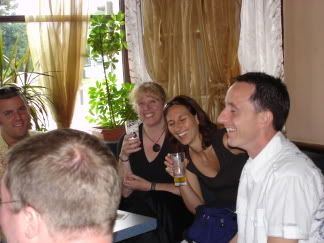 The girls have a good laugh when Spike finally discloses his salary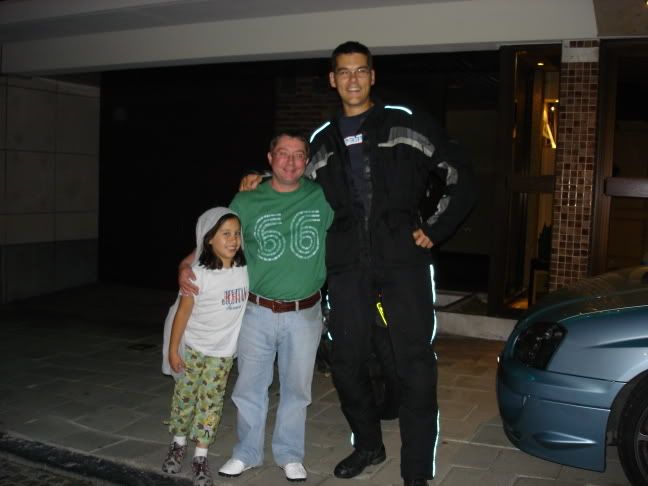 'I'm middle class. I look up to him because......' Joined by Jochen, one of the Swede's friends, and no mean driver himself.
The Awards
(in my opinion only

)
Biggest Radio Bandit
- goes to Spike for getting his battery to run out at least a day before everybody elses. Oi, Oi, Saveloy!!
Biggest Party Animal
- goes to Spike again. Not only a full sweep till the wee small hours each night, but a full monty till 09:30 in the morning with 1mposter.
Quickest Driver
- goes to the Swede. Sideways everywhere and faster than us all. However, in fairness, Woza was on Toyo 888's on a wet track. On the public road I'm sure the Swede was even quicker than on track still!!


Safest Driver
- goes to 1mposter. I'm not saying that he was slow (in fact he's very quick indeed) - just that he was the smoothest and has the best alertness and anticipation. He also has the best-sounding car at speed on the track.
Most Photographed Driver
- goes to Woza. Just everywhere we went heads were on stalks and would swivel through 180 degrees at the sheer beauty of that car and the amazing exhaust.
Unluckiest Driver
- goes to 1mposter. Hampered by brake issues cost a new splitter, and further problems saw a suspected exhaust gasket to blow. More news on that when they get back to Blighty soon....
Most

British

Driver
- goes to Dan. For insisting on driving on the left hand side when nobody else thought it was a good idea

Luckiest Driver
- self-awarded on this one, I'm afraid. Aquaplaned on the pit straight towards the hairpin at la source. Ended up doing 100mph just six inches away from the rather solid concrete wall....
....
Backwards!




Spun for over 100 metres - it was so far that race control had to use two camera positions to capture the full video. Sadly I can't get a copy. Myself and Woza's mate have seen it though. The most surprising thing is that I escaped with no damage. The Gods were definitely smiling on me that day.
This is the second time I've driven the Spa/'ring combo, and it ranks right up there as one of the most enjoyable experiences I've had. What's most remarkable is that thirteen people from different strokes got on so well that there was a true community and friendship throughout. In itself that's a stunning achievement.
Viva WR1OC



Roll on 2007.